Saturday, February 10th, 2024
the evening
Love is in the air.

Join us. Be enchanted. For a cause.
2023 Ballantyne Ball Photos
2022 Ballantyne Ball Photos
2020 Ballantyne Ball Photos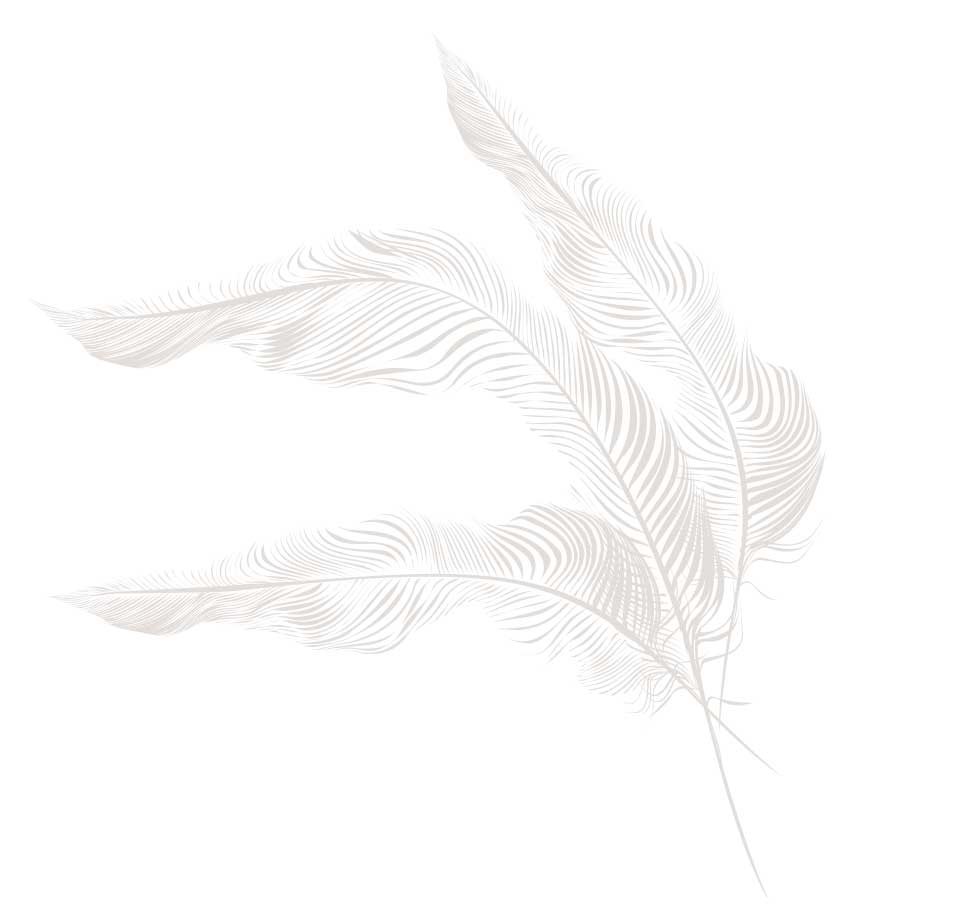 D
on't miss this enchanting evening developed with the local community in mind. Ballantyne Ball promises the romance of Valentine's Day, coupled with the intrigue and fantasy of a masquerade ball. It is also an incredible initiative to give back. This annual community charitable gala, the first of its kind, involves local businesses and supports local causes with the hope of enhancing the lives of families experiencing hardship. Join us. Be enchanted. For a cause.
benefiting
Local Causes to Enhance Lives

Knowing as many as 1 in 4 people struggle with a mental health condition, HopeWay's founding board was committed to making evidence-based treatment more accessible. HopeWay opened in 2016 to fill the gap in the continuum of care between hospitalization and individual outpatient care. Prior to HopeWay, anyone in the Charlotte area needing more comprehensive treatment had to travel out-of-state to one of the few primary mental health facilities in the U.S. Since opening, HopeWay has served thousands of clients from across the nation through an integrated, proven model, helping people learn the skills necessary to live productive and meaningful lives. HopeWay also offers evidence-based treatment for Veterans with PTSD, and has an outpatient clinic, HopeWay Psychiatry & Associates, that serves children, adolescents, and adults. Seeing additional need in the community, HopeWay is expanding to offer primary mental health treatment for middle school and high school students and eating disorder treatment for teens and young adults. On a daily basis, HopeWay clients return to school, work, and their families with a renewed sense of hope and strength, and the ability to navigate their life while effectively managing their mental health. HopeWay is thrilled to soon be able to offer this live changing treatment to our youth.
our mission
At Ballantyne Ball, Fall in Love
With Community and Charity
Ballantyne Ball is a 501(c)(3) organization that showcases a masquerade gala focused on community and charity at the Ballantyne Hotel. As Ballantyne's signature annual gala, our mission is to partner with the local community to unmask impactful charitable causes in our own backyard. Everyone involved in planning the Ball – including directors, committee members, volunteers, vendors, supporters and attendees – is dedicated to giving back to Ballantyne and Charlotte.
attend
 Join us. Be enchanted. For a cause. 
To get involved, contact Allen Starrett at 704.726.3776 or [email protected].
sponsor
 Create opportunities for your company, employees, and community.

Donate
 Help local families facing hardship with a one-time or recurring gift that goes directly to our charity beneficiary of the year.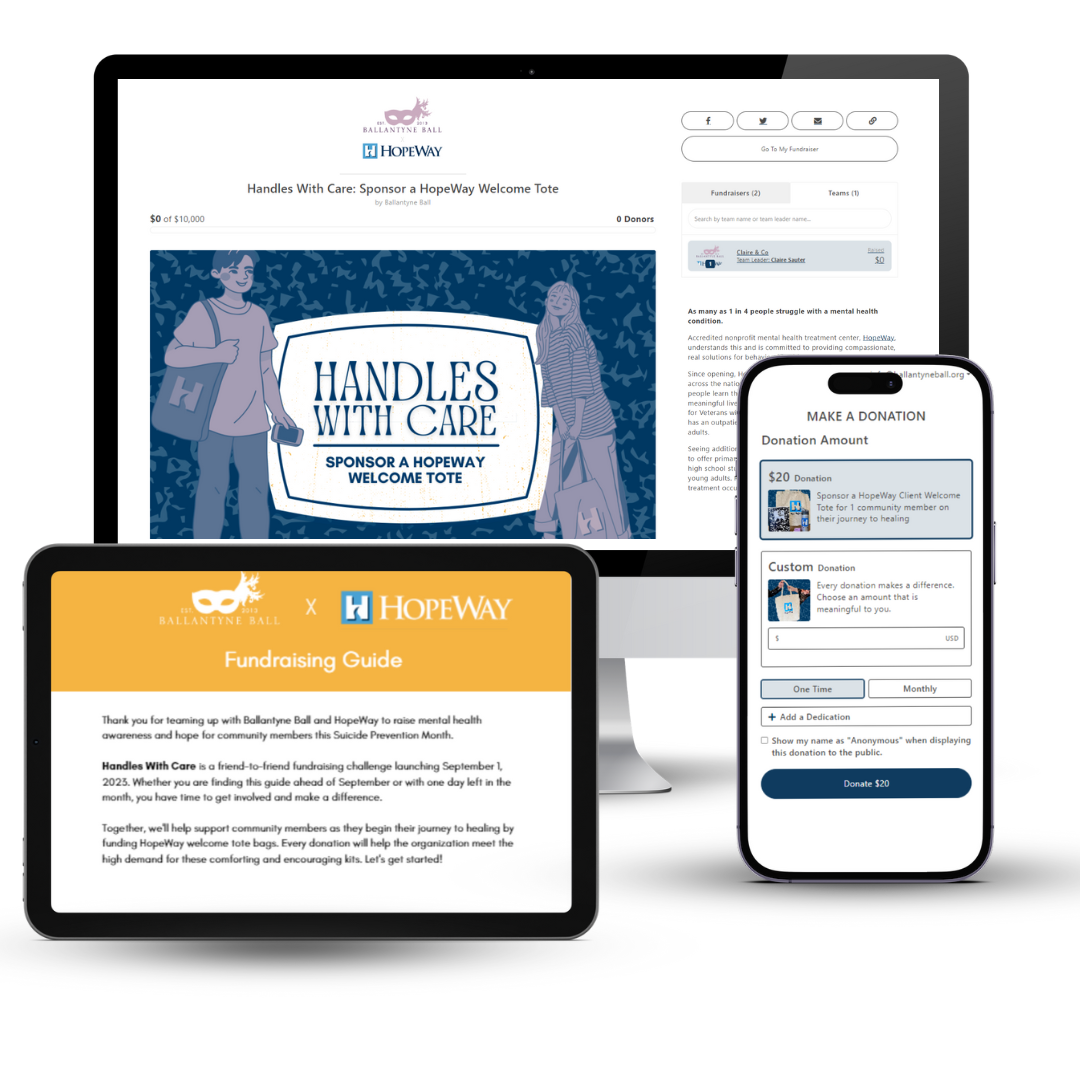 Spread Love
This September—Suicide Prevention Awareness Month—join us in raising mental health awareness and spreading hope to community members on their journey to healing. 
Donate to our Handles With Care campaign or become a virtual fundraiser host yourself! This month-long campaign will fund the development and distribution of HopeWay Welcome Tote Bags to clients beginning treatment. Totes cost $20 each and include activity and comfort items such as journals, pens, water bottles, and encouraging messages. 
Remind those working towards renewed strength and mental wellness that they are loved and supported.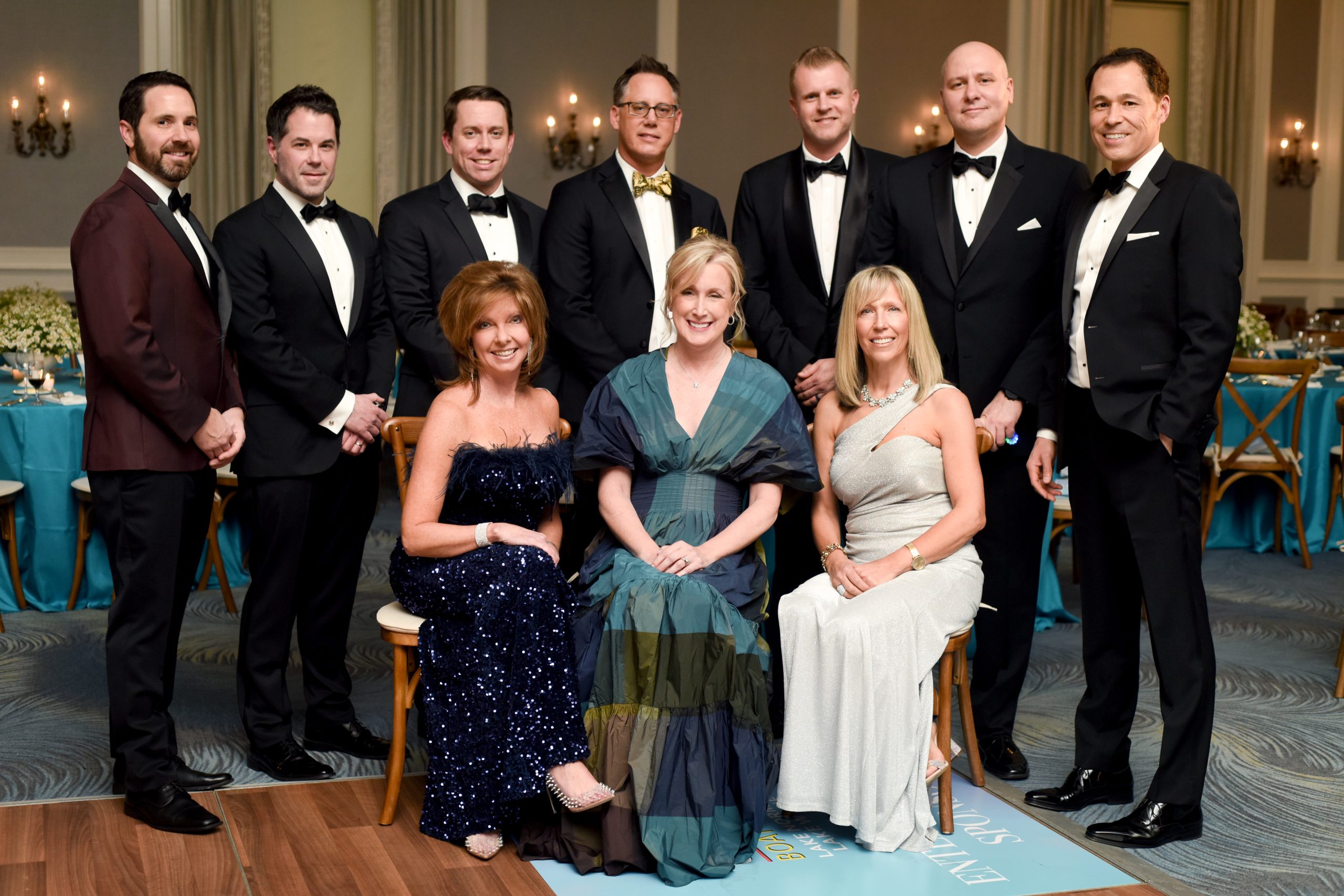 Ballantyne Ball Board of Directors
Pictured L-R: (Sitting) Janet Godfrey, Dina Blazek, Oana Graveline; (Standing) Ben Shaver, Nick Bliablias, George Webb, Todd Bates, Ben Chambers, Jeff Rapaglia, Allen Starrett (Founder/Chair)